These days, a lot of people are working from home. Some just a day or two a week, others every day.
If you recently made the switch to working at home, you'll need a home office that can help your productivity. After all, just because you're working at home doesn't mean you won't have to deal with distractions.
If you're thinking about renovating your home to include the Ultimate Home Office, there are a few things you should consider. Depending on your situation, you may not be able to get everything on this list, but it will help you prioritize what's most important to you.
Distraction-Free Area
At home, there are plenty of distractions, including kids, TV, the kitchen, and household chores, to name just a few.
You can minimize these distractions by locating your office as far away from the action as possible. Think about your basement, bonus room, or even your garage.
If you have a space in your home that doesn't get used much, it could be turned into an office. Or, if you have the land, you could build a separate garage with an upstairs office suite.
Having your home office in the furthest corners of your home will re-create the feeling of "going to work," but without the commute.
Nearby Bathroom
The flip side of sequestering your home office from the rest of the home is it can make bathroom breaks more of a distraction than they need to be.
So be sure to choose a room that's close to a bathroom. Or if you're building an addition to accommodate your home office, be sure to include one in your plans. This will help ensure you stay productive by replicating the office experience as much as possible.
Natural Light
The drawback of working in a basement or attic office with no windows is that you may not see the sun all day. Natural light can make you feel more energetic and productive, so it's important that your office has windows, skylights, or both.
This also allows you to have a couple plants in your office, which can boost your indoor air quality and help you feel calmer.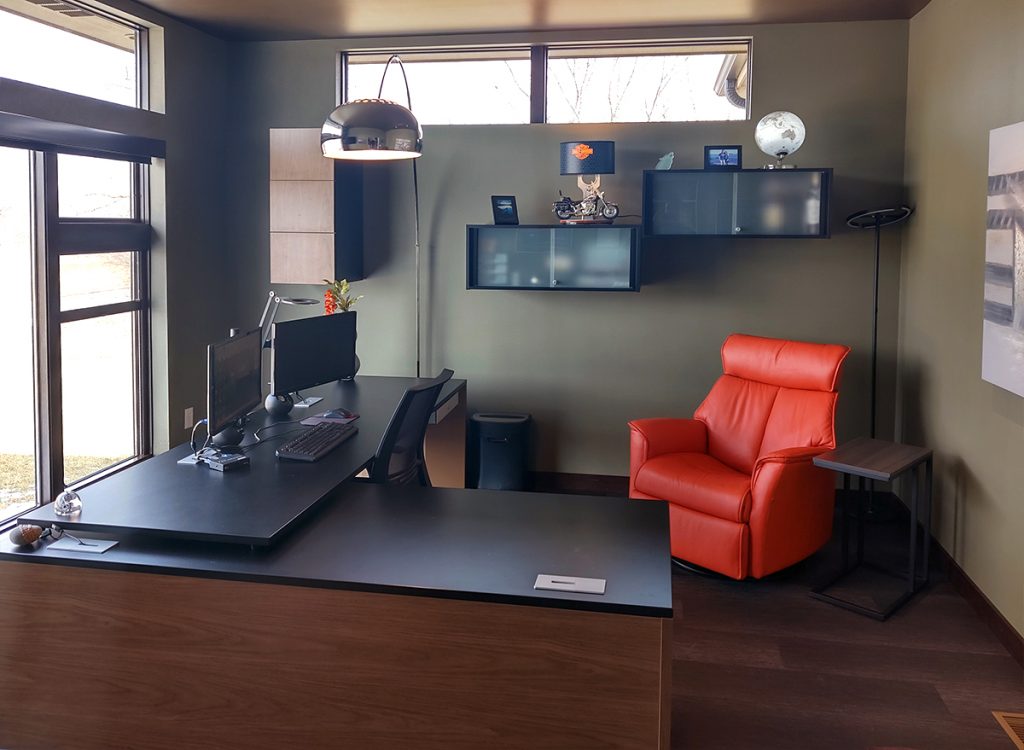 Sound Design
If your office is in the main structure of your home, noise could become an issue. You need a quiet space to work, especially if you have kids and other family members coming in and out of the house all day.
The good news is you can soundproof your home office. We can install special insulation and acoustic panels to minimize sound transmission in and out of your office.
Break Room
Now we're talking serious home office luxury. A break room, complete with a small kitchen, can do wonders for maximizing your productivity.
While you're working, you need a place to stretch your legs and grab a cup of coffee, have your lunch, or just give yourself a mental break. Having a dedicated break room depends on your available space, but it's well worth it.
---
If you think you'll be working from home for the foreseeable future, even if it's just a day or two a week, a well-designed home office is well worth the investment. Contact us and we'll help you get started.
Please follow and like us: