Do you want to renovate your kitchen? If that's the case, read on! This step-by-step tutorial will show you how to plan and create your new kitchen renovation. We'll go over a number of topics in this post, including style, flooring, cabinets, countertops, and much more!
Designing and remodeling your kitchen is a process that takes time, effort, and patience. It's not just about picking out the perfect cabinets or flooring— there are many other decisions to be made along the way. Here is a list of things you need to consider:
Style

: What overall style do you want for your kitchen? Traditional, contemporary, modern, farmhouse, rustic, etc.?

Layout

: How do you want your kitchen to be laid out? Peninsula, galley, L-shaped, U-shaped?

Cabinets

: Material and finish, paint color, style (modern or traditional), recessed or flat paneling, handle styles, etc.

Flooring

: Tile, hardwood, laminate? Keep the existing flooring or install new floors?

Countertops

: Choose material from quartz, marble, granite, quartzite, etc.

Backsplash

: Which type of backsplash will work best with your countertop material?

Lighting

: Perhaps the most critical element in any kitchen. Type of lighting, fixtures, and where to place it.

Fixtures

: Pulls, knobs, hinges, handles. Take note of brand, color, and finish. (chrome, gold, black, bronze, etc.)
Now that you have an idea of some of the things you need to think about and make decisions on, let's dig into the 8 steps to planning a kitchen remodeling.

Choose A Kitchen Design Style That Suits Your Home
The first step is to choose the style of your kitchen. The style you choose should suit your personal taste while also complementing the overall style of your home. Let's overview the most popular kitchen design styles so you can get a feel for what might work in your home.
Modern: Modern kitchen design typically features stainless steel appliances, aluminum, marble countertops, tempered glass, and flat-panel cabinets. The colors are usually stark (black, white, or gray), and the overall look is sleek and clean.
Traditional: Traditional kitchens are classic, timeless, and focus more on function than aesthetics. They usually feature raised or recessed cabinetry, natural flooring (tile, stained hardwood, or patterned stone), white or lighter-colored marble countertops, and classic stains/colors.
Farmhouse: Farmhouse kitchens are becoming increasingly popular. The key elements of a cozy farmhouse-style kitchen are open shelving, classic flooring, contrast countertops, and of course, an apron-front sink.
Contemporary: Contemporary kitchens often blend aspects of both modern and traditional styles to create an updated look. Clean lines, crisp color schemes, open floor plans, cutting-edge appliances, and natural materials are all common features of a contemporary kitchen.
Transitional: Transitional kitchen design is a thoughtful mix of traditional and contemporary aesthetics. The design, colors, and textures all work together to create a cohesive style that is both warm and modern.
Rustic: Rustic kitchens embrace nature-inspired elements like unstained wood beams and cabinets, stone countertops, rugged flooring, and organic materials. The overall look is earthy and cozy, with a focus on functionality.
Keep in mind these are just a few key elements of each style. As you begin your kitchen design journey, you'll likely find that you're drawn to elements of multiple styles. That's perfectly ok! Use these styles as a starting point and then mix and match the elements that you love to create your own unique kitchen style. There are endless possibilities when it comes to designing your kitchen, so don't be afraid to get creative!

Think About the Layout of Your Kitchen
The layout of your kitchen is important for both function and aesthetics. You want to make sure you have a layout that works well for the way you cook and use your kitchen. But you also want a layout that looks good and flows well with the rest of your home.
Some common kitchen layouts are:
L-Shaped:
The L-shaped kitchen is one of the most popular layouts because it is efficient and versatile. An L-shaped layout includes two runs of cabinets or appliances placed in a 90-degree configuration, creating two workable surfaces. This layout is often used in small to medium-sized kitchens because it makes the most of limited space. It can also be adapted to larger kitchens by adding an island or peninsula. An L-shaped layout is a great option for those who want an efficient and versatile kitchen.
U-Shaped:
Another kitchen layout is the u-shaped style. This type of kitchen features three walls of cabinetry and counter space, creating a generous work triangle that is well-suited for multiple cooks. The u-shaped layout also offers ample storage options, as well as the opportunity to incorporate a dining area or breakfast nook. Of course, the u-shaped kitchen is not without its challenges. This layout can feel cramped, particularly in smaller homes. In addition, it can be difficult to create an open and airy feel in a u-shaped kitchen. As a result, homeowners considering this layout should carefully weigh the pros and cons before making a final decision.
Galley Style:
The galley kitchen offers homeowners an incredibly efficient use of space. In a typical galley kitchen, two parallel rows of cabinets and countertops face each other, with a narrow walkway in between. This configuration allows for quick and easy movement between the different workstations, making meal preparation a breeze. Additionally, the close proximity of the cabinets and appliances makes it easy to reach everything you need while cooking. While the galley kitchen may not be suitable for large families or entertaining guests, it is perfect for those who want to make the most of their available space.
Open Concept:
The open concept kitchen is becoming increasingly popular in today's homes. This layout removes the walls and barriers that traditionally separate the kitchen from the rest of the home, creating a more open and inviting space. An open-concept kitchen is ideal for those who enjoy entertaining or spending time with family while cooking. It is also a great option for those who want to create the illusion of a larger space. When planning an open concept kitchen, there are a few important things to keep in mind:
Beams & low-bearing walls

: In order to create an open-concept layout, you'll need to remove any low-bearing walls that separate the kitchen from the living area. Condo residents need a special permit as well as approval from their building's architect before considering any load-bearing wall removal. If you live in a single-family home, you'll need to consult with a local design-build firm, builder, or general contractor to determine if the wall you want to remove is load-bearing.

Plumbing and electrical

: Removing a wall can also affect the layout of your plumbing and electrical systems. Are there any outlets on the wall you want to remove? How will this affect your refrigerator, stove, or dishwasher placement? You'll need to consult with a licensed professional to ensure that your kitchen's plumbing and electrical can be safely rerouted.

Storage

: When designing an open-concept kitchen and removing a wall, you also lose any storage that was contained in that space. If you're short on kitchen storage, adding a spacious island with extra cabinet space or installing floating shelves is a must.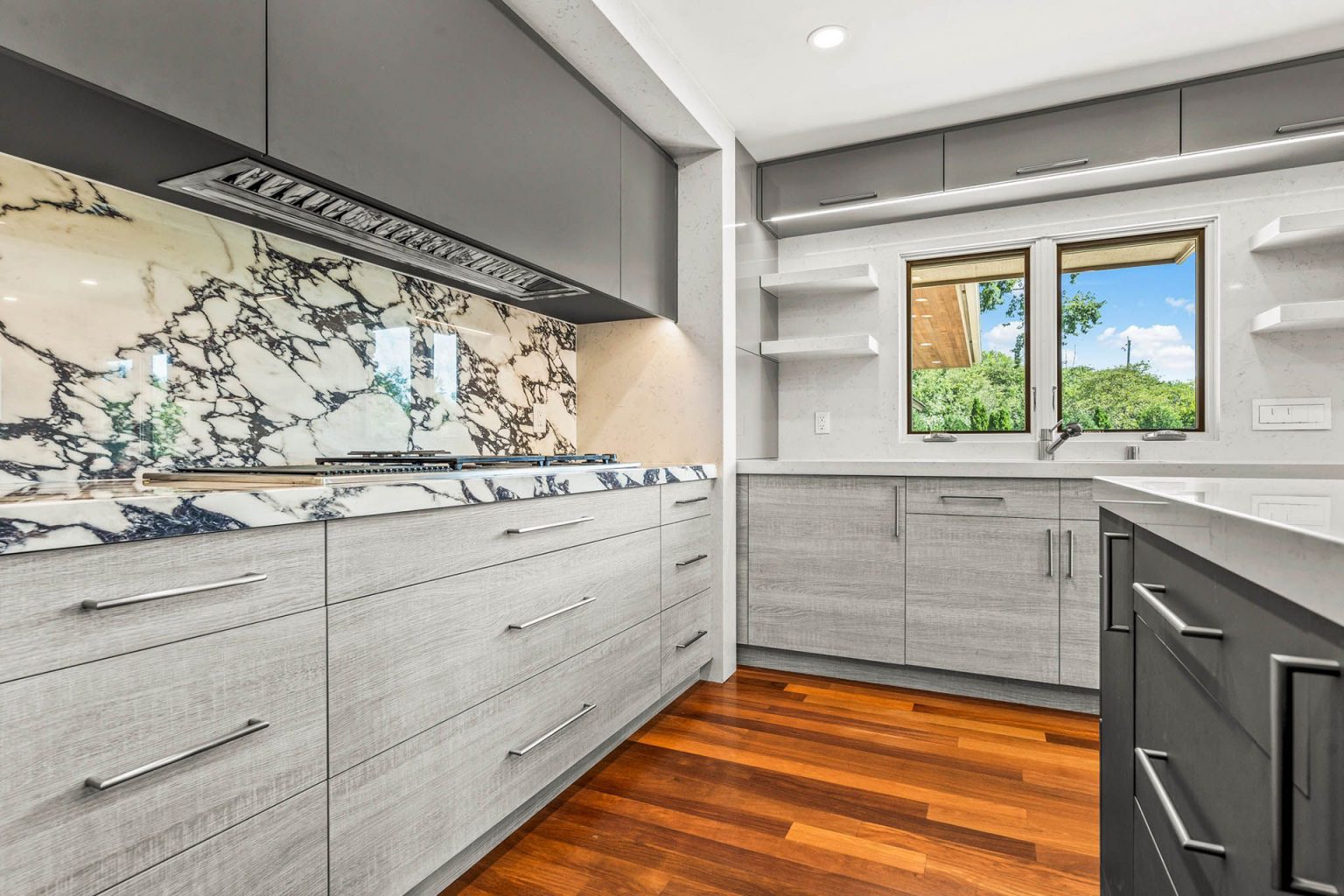 Cabinet Selection For The Right Look and Function
Cabinets are a key eye-catching element in any kitchen, and the right selection can make or break your design. When choosing cabinets, there are many different things to consider: material and finish, door style, hardware, and storage options. With so many choices & style combinations, it can be difficult to know where to start. Here are a few things to consider when choosing the right cabinets for your kitchen:
Material and finish:
The first step in choosing cabinets is to decide on the right material and finish. Do you want wood cabinets? If so, what kind of wood – oak, maple, cherry? Would you prefer a painted finish or a natural stain? What about laminate or thermofoil? One benefit of wood cabinets is that they can be stained or painted to match any décor. Wood is also a classic material that will never go out of style. For a more modern look, laminate or thermofoil cabinets may be the way to go. These materials are available in a wide range of colors and finishes, making it easy to create the perfect look for your kitchen.
Door style: 
The next thing to consider is the door style. The most popular styles are flat door, raised door, and shaker-style cabinets. Flat doors have a clean, simple look that works well in any kitchen. Raised doors add a bit of dimension and can be used to create a more traditional or transitional look. Shaker-style cabinets are a timeless choice that work well in both traditional and contemporary kitchens.
Storage: 
When selecting cabinets, it's important to think about storage. Are you looking for cabinets with lots of storage space, or do you prefer a more streamlined look? If you have a small kitchen, you'll need to be especially mindful of your storage needs. Adding a spice rack, utensil drawer, or pull-out trash can be a great way to add extra storage to your kitchen.

Flooring Considerations For Your Kitchen Remodel
The type of flooring you choose for your kitchen is a very important decision. If you're after a dramatic kitchen transformation, consider installing new flooring. The most popular kitchen flooring options we install at Ware Design Build are hardwood, laminate, natural stone, and tile. When considering flooring options for your new kitchen, there are a few important things to keep in mind:
Durability

: The kitchen is a high-traffic area, so it's important to choose a flooring material that can withstand a lot of wear and tear. Hardwood, laminate, stone, and tile are all good choices for durable kitchen flooring.

Water resistance

: Kitchens are prone to spills, so it's important to choose a flooring material that can withstand spills and splashes.

Ease of maintenance

: You'll want to choose a flooring material that is easy to clean and maintain. Hardwood and tile floors can be swept and mopped, but they may require more upkeep than laminate or vinyl floors.

Cost

: Finally, you'll need to consider cost when choosing kitchen flooring. Hardwood, stone, and tile floors are more expensive than laminate or vinyl, but they can also add more value to your home.
Next, let's take a look at each of the most popular kitchen flooring options in more detail:
Hardwood Flooring:
Hardwood floors are a popular choice for many homeowners due to their beauty and durability. However, hardwood floors can also be a bit more expensive than other options such as laminate or tile. If you're on a tight budget, you may want to consider other flooring options for your kitchen remodel. But if you can swing it, hardwood floors are definitely worth the investment. Not only will they add value to your home, but they'll also give your kitchen an elegant and timeless look that will never go out of style.
Laminate Floors:
Laminate flooring is made from a composite of wood and plastic, which makes it very durable. It is also resistant to staining and fading, making it an ideal choice for busy kitchens. In addition, laminate flooring is available in a wide range of colors and styles, so you can easily find a look that fits your personal taste. If you're looking for a low-maintenance option that will still give your kitchen a high-end look, laminate flooring may be the perfect choice for your next remodel.
Ceramic Tile Flooring:
Ceramic tile is a popular choice for many homeowners because it is durable and easy to maintain. Tile floors are also very stylish, and they can give your kitchen an upscale look. Another advantage of ceramic tile is that it's relatively affordable compared to other flooring materials. This makes it a good option for budget-minded homeowners who are remodeling their kitchens. If you're looking for an affordable flooring option that will stand up to spills and heavy foot traffic, ceramic tile is a great choice.
Natural Stone Flooring:
If you're looking for something that is durable, timeless, and will add some extra glamour to your kitchen, then natural stone is a great option. There are many different types of natural stone flooring to choose from, some of the most popular options being: marble, slate, and travertine. Natural stone flooring is a great choice for your kitchen remodel because it can withstand everyday wear and tear, as well as spills and messes. It also lasts for years, so you won't have to worry about replacing it anytime soon. Plus, natural stone flooring adds a touch of luxury to any kitchen. It can really elevate the look of your space and make it feel more elegant and sophisticated.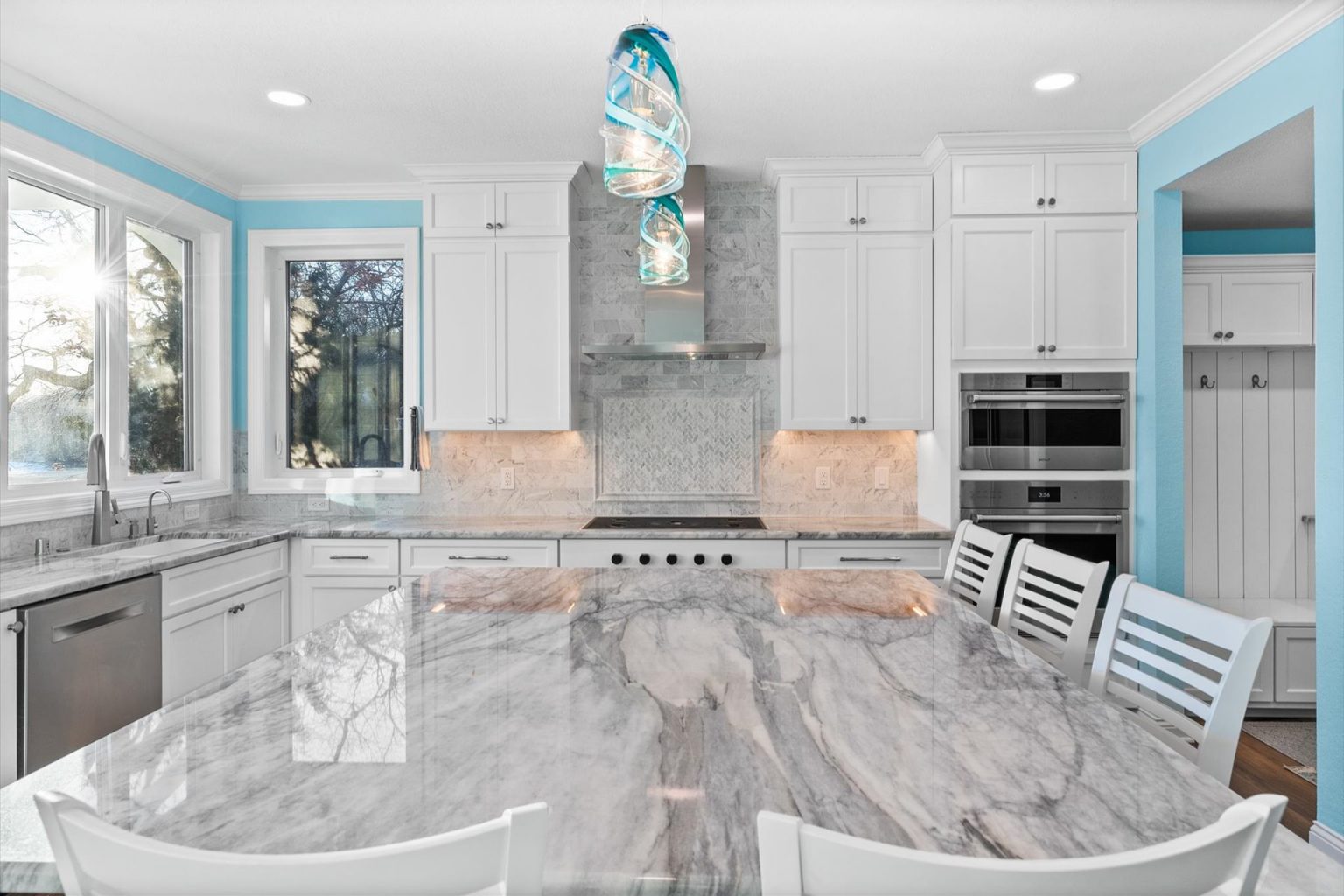 Countertop Decisions:
There are a few types of countertop materials that you should consider when selecting your countertops, but by far, the most popular those days to go with transitional or modern style cabinets is quartz. Quartz is a manufactured material that is formed when sand and other minerals are fused together with heat and pressure. It is a very hard surface that is non-porous, so it doesn't require sealing and is resistant to scratches and staining. Quartz comes in many colors and designs, so you can find one that will perfectly match your cabinets and décor.
Another popular countertop material for kitchens is granite. Granite is a natural stone that is quarried from the earth. It has a unique appearance because each piece of granite is different, with its own mix of colors and markings. Granite is also very hard and durable, but it does require periodic sealing to protect it from staining.
In addition to granite and quartz, there are other natural stone options such as marble, limestone, and quartzite. For more information on kitchen countertop selections, visit our blog post about the best kitchen countertop material.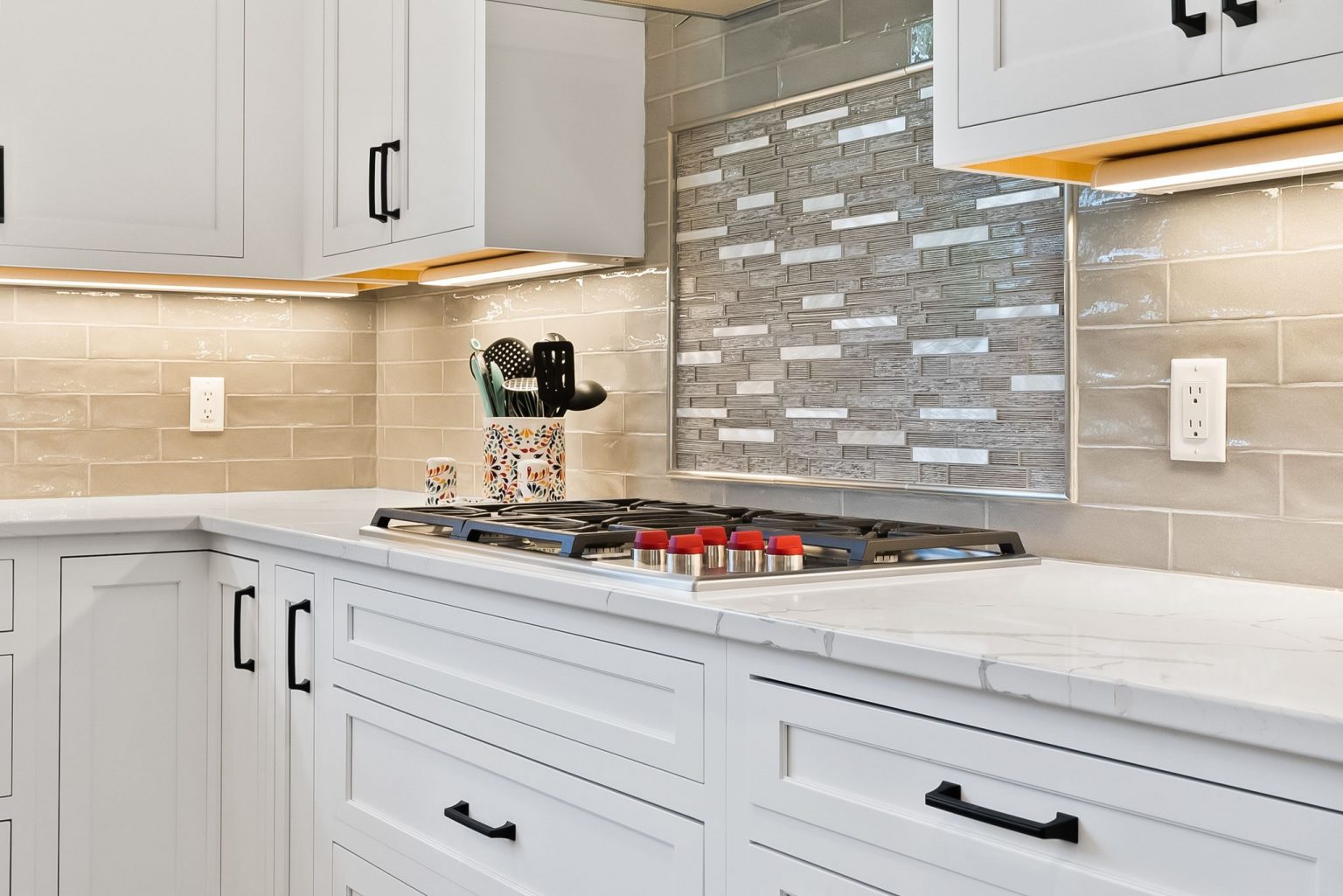 Kitchen Backsplash: One of the finest details
The backsplash is the strip of material that goes between the countertops and the cabinets. Its purpose is both functional and aesthetic, as it protects your walls from spills and splatters, while also adding a bit of style to your kitchen. There are many different materials and styles to choose from, so consider your budget, the look you're going for, and how much upkeep you're willing to do.
Tile is a popular choice for kitchen backsplashes because it's durable and easy to clean. You can choose from a variety of colors and textures, and there are many different patterns to choose from. Subway tile is a classic choice that will never go out of style, or you could opt for something more unique, like mosaic tile. If you don't want to tile the entire backsplash, you can use tile as an accent and use a different material for the main part of the backsplash.
We've also installed kitchen backsplash made of glass, stone, metal, and wood. The most important thing to consider when choosing the design of your backsplash is how it will compliment the look of your countertops, cabinets, and floor. At the end of the day, a backsplash is a great way to add style and personality to your kitchen, no matter which material you choose.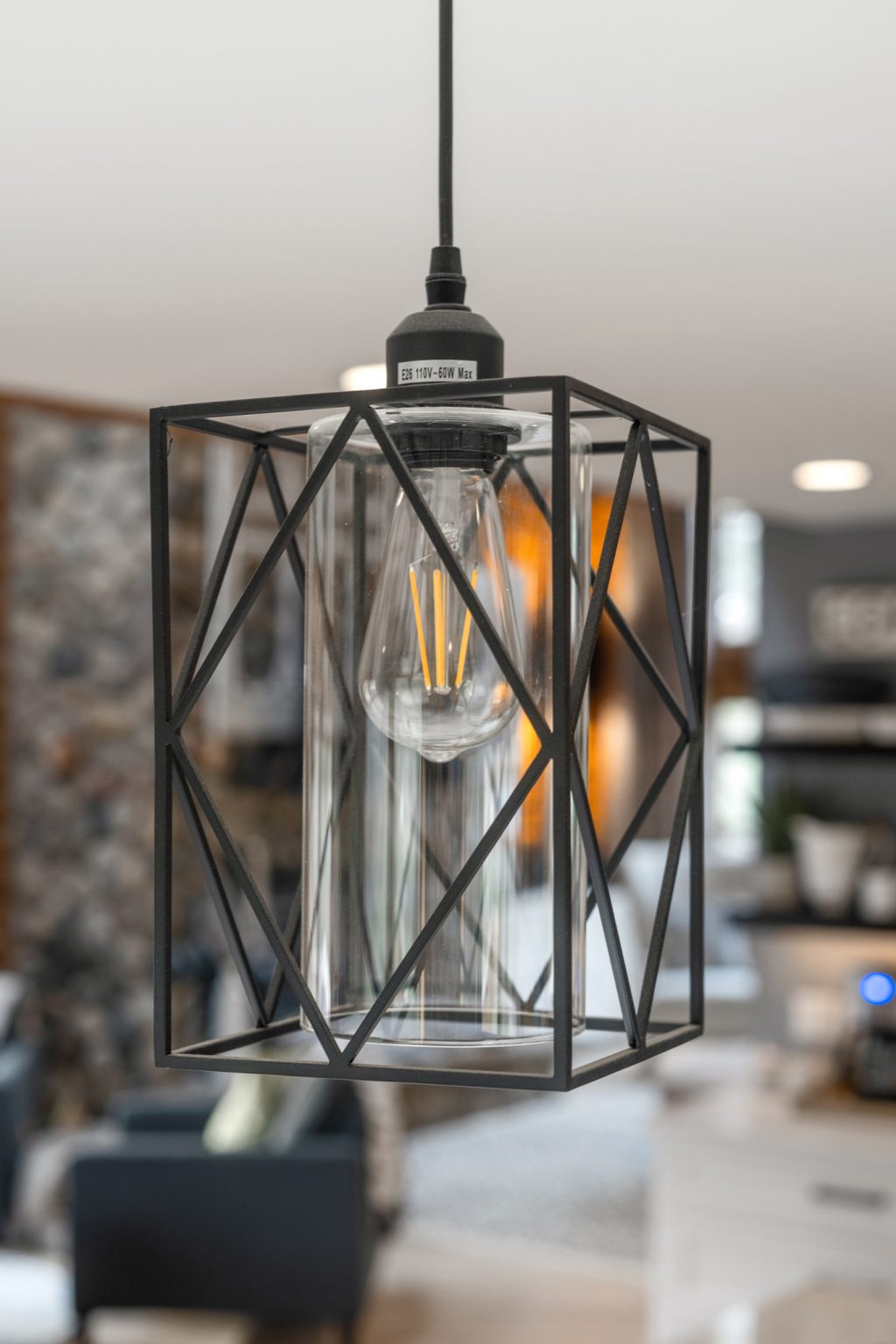 Choosing The Perfect Kitchen Lighting
One of the most important aspects of any kitchen remodeling project is choosing the perfect lighting. There are a few things to consider when making this decision.
The first thing to think about is the amount of light you need. Consider how much natural light the kitchen currently gets and whether you want to add more artificial light. If you want to maximize natural light, choose light fixtures that won't block any windows or doors.
The second thing to think about is style. Do you want a traditional or contemporary look? There are a variety of options to choose from when it comes to kitchen lighting, so you can find the perfect style to match your remodel.
Finally, you'll need to think about function. Make sure the lights are placed in areas where they will be most useful. For instance, if you do a lot of cooking, you'll want to place lights above the stove and sink.
When choosing kitchen lighting, keep these things in mind and you can't go wrong!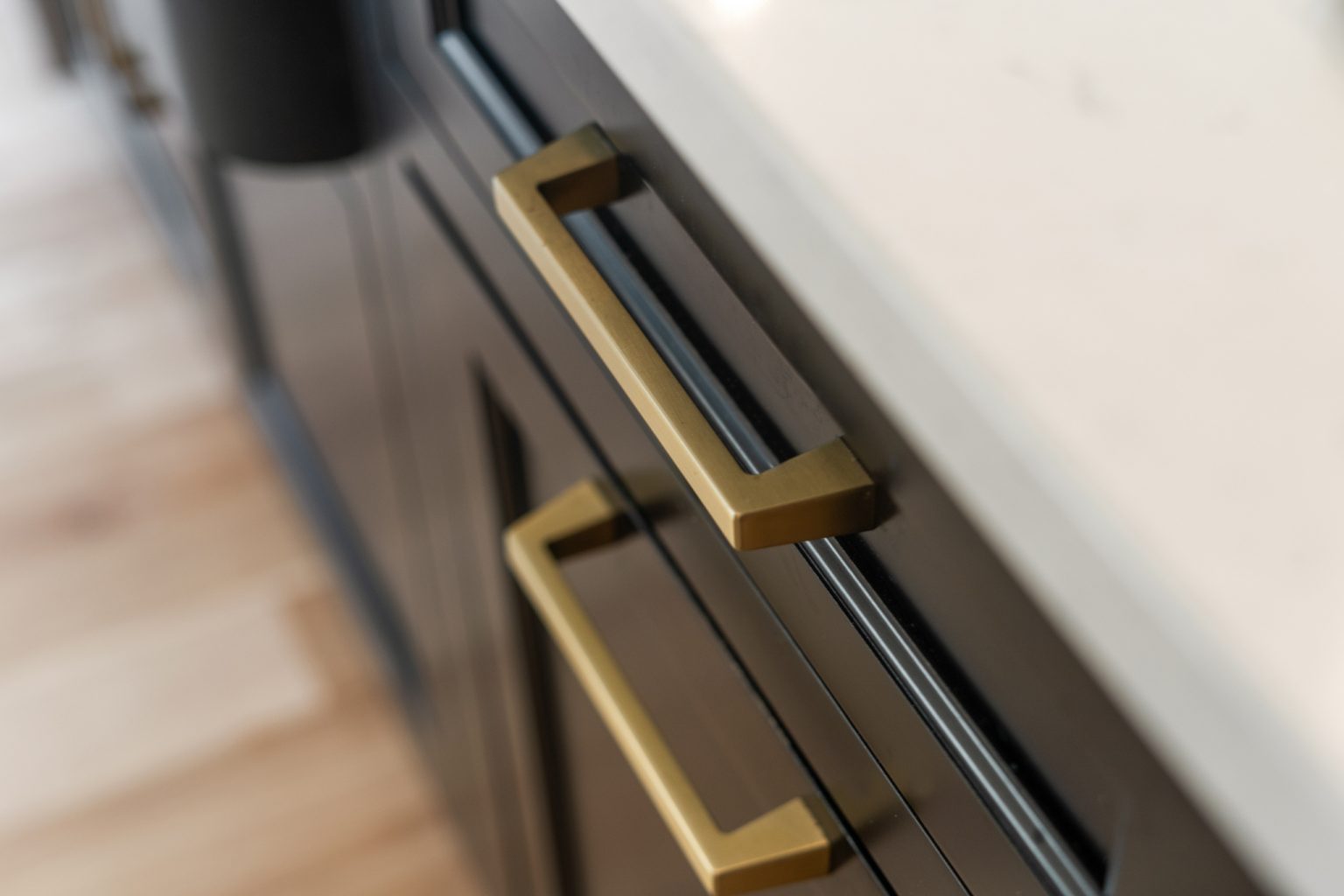 Hardware: Adding The Finishing Touches To Your Remodeled Kitchen
After you've selected your cabinets, countertops, backsplash, and lighting, it's time to add the finishing touches to your kitchen with hardware.
Hardware is the term used to describe all of the small details in a kitchen, such as cabinet pulls, knobs, hinges, handles, and more. These details might seem small, but they can actually have a big impact on the overall look of your kitchen.
When choosing hardware, it's important to think about both style and function. For instance, if you have small children, you might want to choose cabinet pulls that are easy for them to grip. Or, if you want a more modern look, you might opt for sleek, stainless steel hardware.
Whatever style you choose, make sure the hardware is durable and easy to clean. After all, it's going to be used a lot!
These are just a few things to keep in mind when selecting hardware for your kitchen. With so many options available, you're sure to find the perfect style to match your new kitchen.
---
Ready To Get Started On Your Kitchen Remodel Journey? Schedule A Complimentary Consultation With Our Award-Winning Team Today.
This was our guide on the 8 steps to plan a kitchen remodeling. We hope this guide will be useful to you as it gives you a baseline of things to think about before starting your kitchen remodeling project. Of course, the most important thing is to have fun with it and enjoy the process! The finished product will be all the more satisfying if you do.
If you have any questions or would like for us to be involved, we would love to hear from you! Our team of experts are ready to help you plan your kitchen remodel from start to finish. We'll work with you to come up with a design that fits your lifestyle and budget, and we'll be there every step of the way to ensure that your vision becomes a reality.
To get started on your kitchen remodeling project in the Milwaukee area, we invite you to schedule a complimentary consultation today. Thank you for reading and we look forward to hearing from you soon!

Please follow and like us: