Are We The Right Fit For You?
Working with Ware Design•Build
When getting started on a custom home build or home remodeling project, it's crucial to choose a company that is the perfect match for your unique needs and vision.
You want a partner that caters to your requirements, respects your timeline, and aligns with your budget.
One of the greatest advantages for our clients at Ware Design Build is our comprehensive design-build approach, which ensures a seamless transition from exceptional design to precise construction. From the beginning to the end of your project, our collaborative team works together, providing continuous support through every phase of your custom home build or remodeling journey.
With this tailored approach and commitment to quality, Ware Design Build aims to create a smooth and enjoyable experience for all clients.
We are a great fit for your custom home project if:
You desire a truly custom home
You live in our service area
Your budget aligns with building a custom home
You are willing to invest time in the planning process
If you're seeking a custom home build, does this sound like you?
I want a one-of-a-kind home designed specifically for me and my family.
I need expert guidance to bring my vision to life.
I value quality materials, exceptional craftsmanship, and personalized service.
I want a reliable partner who will manage the entire process, from design to completion.
We could be the perfect match for your remodeling project if:
You're interested in design-build services
You're located in our service area
Your budget aligns with our pricing
You have time to commit to the planning process
If you're seeking a home remodeling project, can you relate to these statements?
I don't have the time to plan and manage a remodeling project on my own due to work, family, hobbies, and other commitments.
I love my current home and/or neighborhood.
I need expert advice on design to improve my home's functionality, including storage, flow between spaces, prep space, entertaining areas, etc.
I'm seeking high-quality materials and top-notch craftsmanship.
I want a trustworthy company that adheres to a budget and schedule.
I don't have time for a DIY project.
I want a smooth construction process supervised by a Project Manager.
#1 - You're Interested in Design-Build Services
We offer an all-in-one solution with design and construction services, streamlining the process and providing a stress-free experience. You'll collaborate with one dedicated expert who will oversee the entire project, from design and material ordering to labor and inspections. Our design-build approach is focused on bringing your dream home to life efficiently and effectively.
WARE DESIGN BUILD SPECIALIZES IN THE DESIGN AND CONSTRUCTION OF:
Custom Homes
Whole House Remodels
Home Additions
Kitchens
Master Suites & Baths
Condo Renovations & Build Outs
Historic Home Remodels
Commercial Construction
#2 - You're Located in Our Service Area
We focus on a specific service area to ensure top-notch service and competitive pricing for our clients. We strive to optimize efficiency by considering each project's size, scope, and distance from our office while being attentive to budget and timeline constraints.
Our main coverage area spans Milwaukee and Waukesha County. The majority of our work is found in Brookfield, Delafield, Elm Grove, Hartland, Mukwonago, New Berlin, Oconomowoc, Pewaukee, Sussex, Waukesha, Wauwatosa, and surrounding neighborhoods.
With our showroom situated in New Berlin, we strive to serve homes within a 60-minute radius. This proximity allows our team to deliver exceptional service and ensures we can promptly address any project concerns that may arise.
Contact us to find out if your project falls within our service area. If you are close to the border or believe we should make a special exception for your custom home or remodel project, please don't hesitate to contact us, as we occasionally make exceptions, based on the project.
#3 - Your Budget Aligns with Our Pricing
While we don't have a fixed minimum for the projects we undertake, our expertise is best utilized on projects that require both design and construction. As each project is unique, we can design it to fit your budget. In cases where the project scope doesn't align with your budget, we strive to find a balance that works for you.
We are the best fit for homeowners who want to invest in their homes and create a space they will have for many years to come. Our ideal clients value premium materials and exceptional craftsmanship.
We are not the right fit for property flippers or fast, inexpensive remodels.
As a design-build company, our projects encompass design, materials, a dedicated project manager, permits, and labor. Every project is unique, and the cost depends on factors such as size, age of the home (remodel), level of finish, and complexity.
#4 - You Have Time to Commit to the Process
Planning a custom home or remodeling project takes time. We adhere to a proven step-by-step process to ensure the success of your project.
The project timeline encompasses various activities and meetings, such as:
Initial Consultation
Site Evaluation
Presenting Design Concepts & Floorplans
Material Selection
Reviewing Bids
Finalizing the Contract
Obtaining City Permits
Bear in mind that most custom home and renovation projects require weeks or even months of planning. The process involves making numerous decisions, including floor plan layouts, fixtures, finishes, cabinets, flooring, appliances, and more. While some homeowners can make quick decisions, others might take weeks or months to settle on their preferences.
Why Choose Ware Design Build?
We set ourselves apart from other contractors by providing our clients with the following benefits:
Exceptional Work
We've built a strong reputation in Southeast Wisconsin for our commitment to outstanding service, expert craftsmanship, and lasting relationships. Our client testimonials and industry recognition are a testament to the unparalleled quality we consistently deliver.
Experience
Our team brings combined commercial and residential industry experience. Our parent company, Venture Construction Group, is one of Southeastern Wisconsin's most respected commercial construction firms. This ensures a solid foundation for exceptional service, craftsmanship, and reliability in every home we build.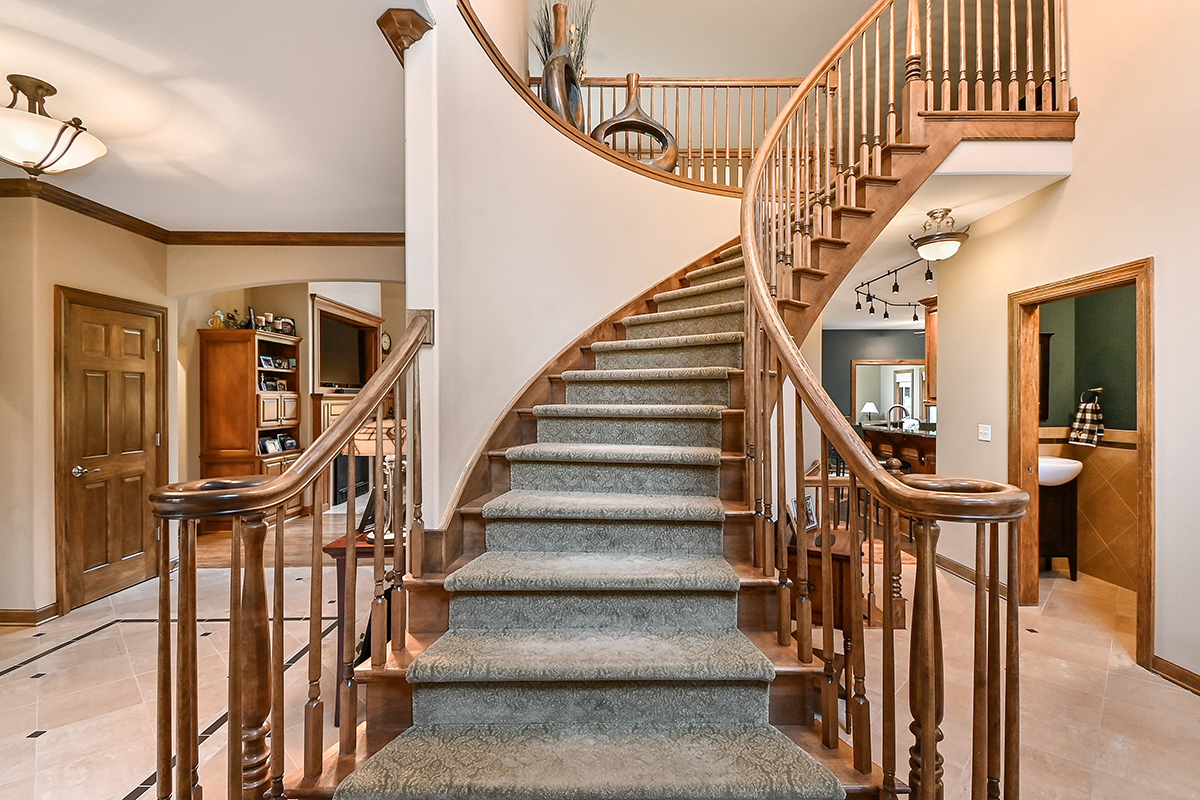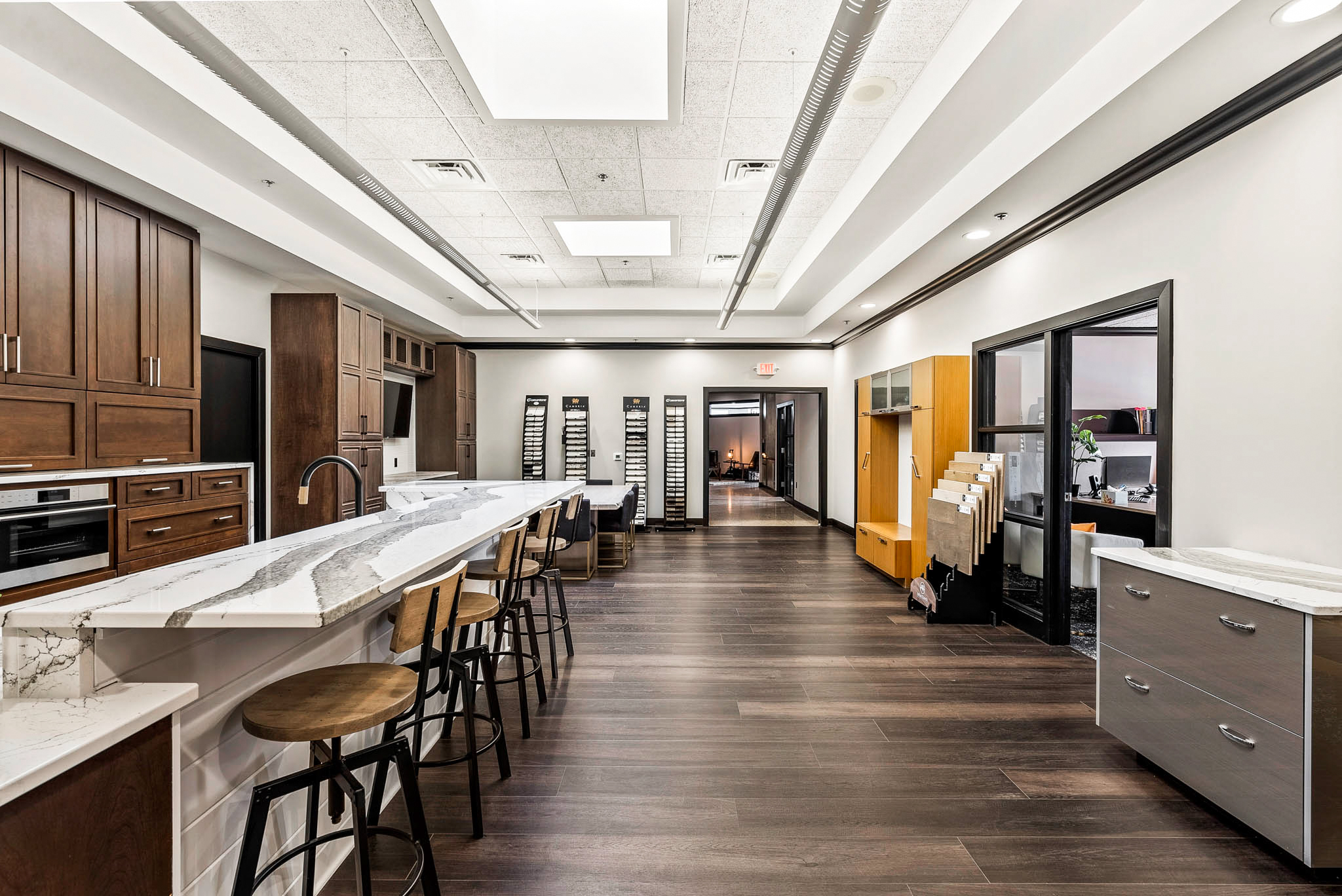 Our Process
Our unique design-build process prioritizes transparency and client satisfaction, setting us apart from traditional residential contractors. We offer detailed cost breakdowns, sharing every aspect with our clients to avoid hidden surprises and unexpected expenses. Our process emphasizes timely communication, strict adherence to schedules, and weekly updates with progress photos and summaries of milestones. This results in a seamless, enjoyable building experience tailored to your vision and budget.
Showroom
Conveniently located in New Berlin, our inviting showroom offers you the opportunity to visualize your home by seeing and feeling a variety of countertops, cabinets, tiles, flooring, fixtures, hardware, and more.
Dedicated Designers
Our talented designers will guide, support, and inspire you every step of the way, helping you make informed decisions for a home that truly reflects your personal style.
Project Managers
Your home's construction will be managed by a dedicated Project Manager from start to finish, ensuring that your home will be completed on time and adheres to our high standards.
Superintendents
Each of our projects is overseen by an on-site superintendent. Their role encompasses overseeing all construction aspects, guaranteeing the highest quality of workmanship, adhering to on-site safety protocols, and ensuring that the project timeline remains on course.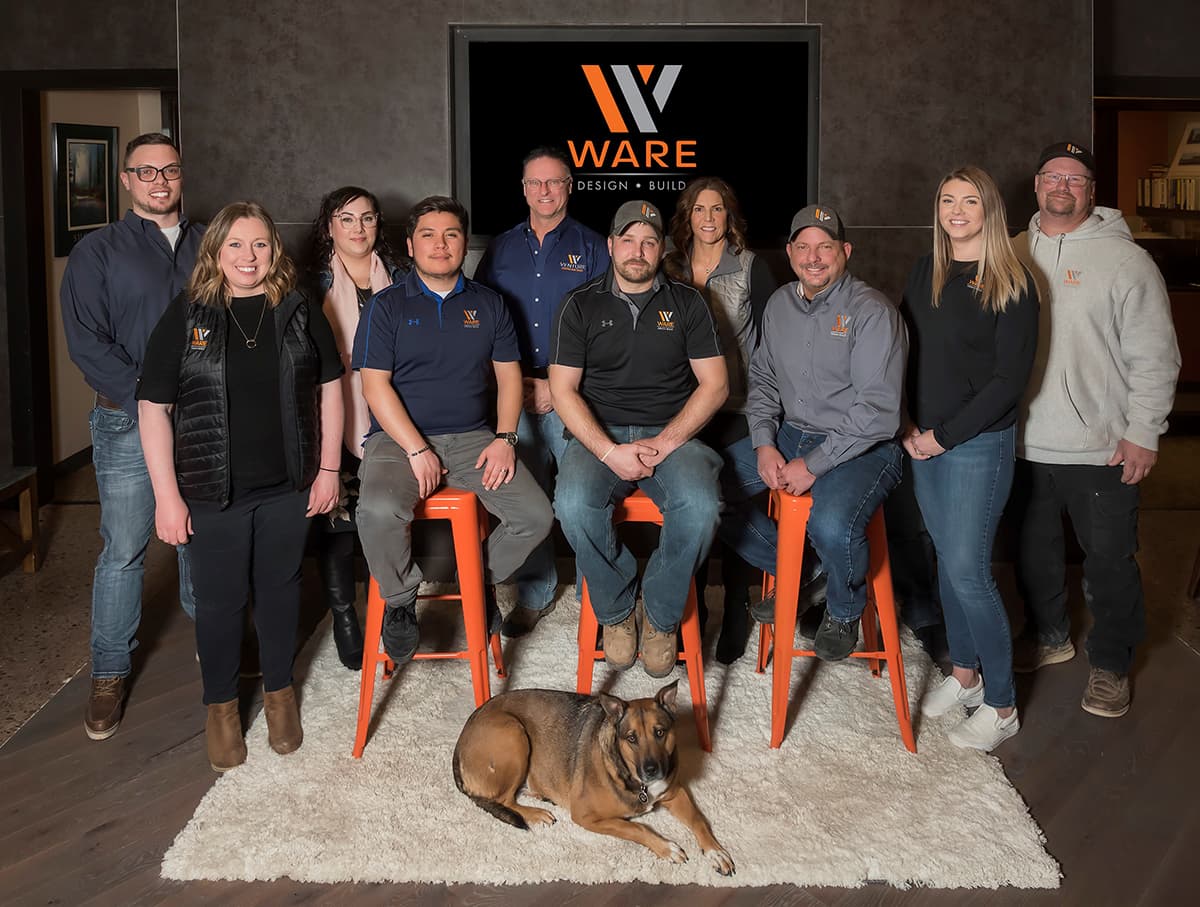 Ware Design Build is solving the problem of the home building and remodeling process being stressful and over budget. We make a difference by working closely with our clients to help them establish their budget, and design accordingly to that budget. We alleviate the common fear of being locked into a contract that surpasses one's budget and being committed to a builder without any way out.
We set ourselves apart by investing considerable time and effort upfront, ensuring our clients feel comfortable and confident in the details included in their homes. We defy the status quo of signing a contract only to discover later that certain elements are not included, resulting in a budget overrun, with no choice but to proceed. Our mission is to offer a refreshing alternative.
At Ware Design Build, our clients experience the peace of mind that comes from having complete control and transparency during the home building or remodeling process. We pride ourselves on being different and prioritizing your needs and expectations above all else.
This approach is the exact opposite of other builders, and it puts you, the client, first.
Ready To Get Started on Your Dream Project?
If Ware Design Build seems like the right fit for your custom home or remodeling project, we encourage you to schedule a discovery session with our team. We look forward to learning more about your project and what you want to achieve.